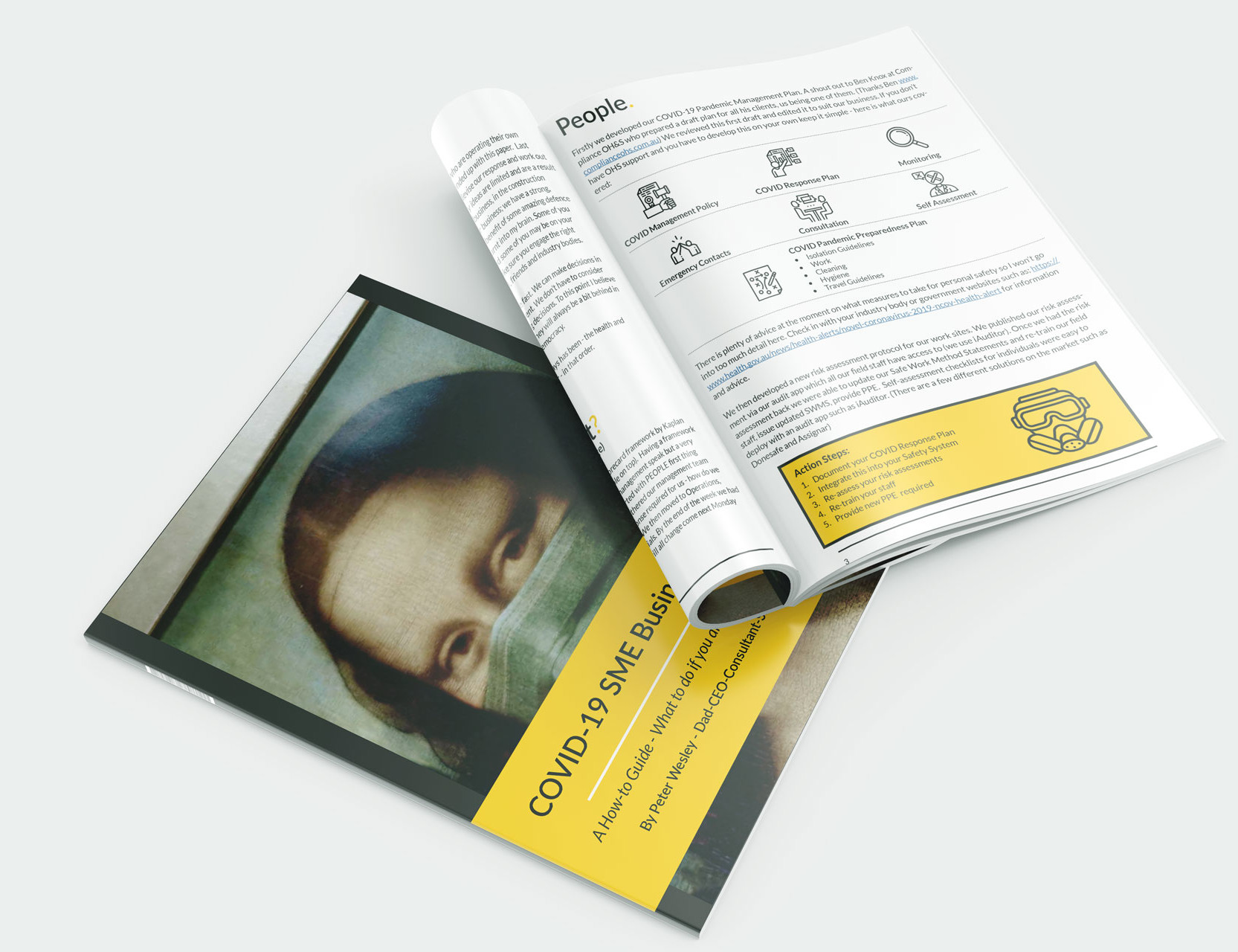 COVID-19 SME Business Response
– 11 Page How-To Step by Step Guide
"This is the information I wish I had when I started my COVID Planning. You can't buy this experience"
Included in this guide:
Where to start
How to plan
Links to valuable resources for more information
Operations
Customer
People
Finance
One Page Checklist
Real-life experience from someone working through these business issues today
For clients who operate through a company there are two primary ways to pay themselves (leaving aside drawings which attract Division 7A and are mentioned separately):
Salary, and/or
Dividends
If you pay yourself a salary, the amount is a deductible expense to your company and is assessable in your hands. The company is required to deduct PAYG from the salary.
Alternatively, the income can be taxed in the company's hands and the company can then pay the non-deductible after-tax earnings to individual shareholder, as dividends, which is not deductible for the corporation.
Note that some shares and other equity types are classed as debt because of some special features in their terms (for example if dividends have to be paid at a set percentage, and do not depend on profits for example) will be classed as 'Debt' for tax purposes, and any "dividends" that are paid on these shares will be deductible, but the company will not be able to attach franking credits to the payments.
Companies don't necessarily need profits to pay dividends. There are three tests before a company can pay a dividend:
Section 254T of the Corporations Act states:
Circumstances in which a dividend may be paid:
1. A company must not pay a dividend unless:
the company's assets exceed its liabilities immediately before the dividend is declared and the excess is sufficient for the payment of the dividend; and
the payment of the dividend is fair and reasonable to the company's shareholders as a whole; and
the payment of the dividend does not materially prejudice the company's ability to pay its creditors.
In previous years, a company could not pay a dividend unless it had profits (after all expenses including tax) sufficient to pay that dividend. So that if the company had not made a profit over a given period then it could not pay a dividend. However, now companies can pay a dividend provided they pass the three tests above.
The shareholder will face tax on the dividends paid to you, but at a lower tax rate than salary.
The reason for this is that the company has already paid tax on the income when dividends are received, the amount is "grossed up" and then you are entitled to a dividend tax credit (to provide a tax credit for the approximate tax that was paid by the company).
Of course the company tax goes up when the salary expense reduces, since the level of tax deductions falls.
Pros and Cons when considering Salary or Dividends:
Salary Pros
Salary will count for Super Guarantee Charge purposes, whereas Dividends do not (so an advantage for the employee, but only a deductible cost for the company).
Salary assists with financing purposes. If you are planning on applying for a line of credit or a mortgage, then paying yourself a salary will help you qualify.
Salaries paid by the company are an expense to the company and can reduce net income and corporate taxes payable.
Salary Cons
Can be used only to pay employees of the company
Required to deduct PAYG.
The company has the burden of managing payroll
Goes towards the Payroll Tax threshold
Dividends Pros
Can be paid to individuals who are not employees of the company (though they must be shareholders).
More tax efficient; dividends are taxed at a lower rate than salary – so deferral advantage until included in personal tax return when top-up tax may apply if the shareholder's marginal rate is more than 30%).
Dividends are administratively simple – just need Directors declaration, and statement to shareholders, and journal to franking account.
Dividends also require a resolution by the Directors of the company.
Can time dividends – move into the next financial year, more easily than salary
Dividends Cons
Can't be paid out by companies failing the net asset test or another of the three Corps Act tests, whereas salary can still be paid out – so shareholder controllers may need to pay themselves a salary to get cash out of the company, but a liquidator may want to claw back the money, if they only became employees soon before the company failed.
Directly reduces the equity of the company. (For example, when a dividend of $100,000 is declared and paid, the corporation's cash is reduced by $100,000 and its retained earnings is reduced by $100,000).
Dividends are not an expense of the corporation and, therefore, dividends do not reduce the corporation's net income or its taxable income.
If you pay more in dividends, you can create tax problems later on and, if the company becomes insolvent, you may be liable to repay the dividends taken.
In summary, it can be quite a complex decision, especially when you need to consider Division 7A. The best solution would be to chat with one of our accounting experts to guide you with making the best decision for your company.