On 12 March 2020, the government announced a $17.6 Billion stimulus package to assist the economy to withstand and recover from the economic impact of the coronavirus (COVID-19). The Government has also announced a second $66 Billion package on 22 March 2020, and these changes have been incorporated below
The measures contained in the stimulus package are outlined below. These measures have not yet been legislated.
It is highly likely that this stimulus will be increased as the coronavirus further impacts the economy and many commentators are suggesting that it will eventually match the $50 Billion stimulus that the Labour government spent to withstand the impact of the Global Financial Crisis.
If you're not already getting a payment and need to claim. If you receive one of the eligible payments and Centrelink approve your claim, you'll also get the supplement. You can claim online through myGov using a Centrelink online account, or phone Centrelink.
We will be publishing the new measures on our website as they are announced, so please check back on viden.com.au.
For immediate advice please call any member of your Client Service Team on 1800 773 643.
MEASURE: Federal Government Guaranteed New Loans up to $250,000
WHEN
From 12 March 2020 on (provided the Bank has registered with the Government)
RESTRICTIONS
Available to SMEs (with a turnover less than $50M in the previous financial year and also likely to be less in the current year).
Only applies to new loans that are:
Less than $250,000;
Three years or less;
Unsecured (though banks can take personal and director guarantees);
Six month repayment holiday;
Interest rate and loan fees set by the bank;
Lender must be registered with the Federal Government; and
The Federal Government will guarantee 50% of the loan in favour of the bank.
MEASURE: INDIVIDUAL HOUSEHOLD SUPPORT PAYMENTS
AMOUNT
Two separate payments of $750 (tax exempt).
WHEN
First payment to Eligible Payment Recipients and concession card holders any time between 12 March 2020 – 13 April 2020; Second payment to Eligible recipients and card holders on 10 July 2020.
RESTRICTIONS
Only to Australian Individual Residents who are not also accessing employer entitlements such as sick leave, annual leave or Income Protection Insurance.
1st payment eligibility:
Age Pension
Disability Support Pension
Carer Payment
Parenting Payment
Wife Pension
Widow B Pension
ABSTUDY (Living Allowance)
Austudy
Bereavement Allowance
Newstart Allowance
JobSeeker Payment
Youth Allowance
Partner Allowance
Sickness Allowance
Special Benefit
Widow Allowance
Family Tax Benefit, including Double Orphan Pension
Carer Allowance
Pensioner Concession Card (PCC) holders
Commonwealth Seniors Health Card holders
Veteran Service Pension; Veteran Income Support Supplement; Veteran Compensation payments, including lump sum payments; War Widow(er) Pension; and Veteran Payment.
DVA PCC holders; DVA Education Scheme recipients; Disability Pensioners at the temporary special rate; DVA Income support pensioners at $0 rate.
Veteran Gold Card holders
Farm Household Allowance.
2nd Payment Eligibility:
JobSeeker Payment (and payments progressively transitioning into JobSeeker Payment)
Youth Allowance Jobseeker
Parenting Payment (Partnered and Single)
Farm Household Allowance
Special Benefit
MEASURE: Individual Income Support Recipients
AMOUNT
$550 per fortnight (in addition to other eligible payments)
RESTRICTIONS
Individual Recipients of: Jobseeker Payment, Youth Allowance Jobseeker, Parenting Payment (Partnered and Single), Farm Household Allowance, Special Benefits recipients. Expanded to employees, sole traders, contractors who lose their employment and meet the income tests as a result of the Coronavirus. Claim online or via mobile. If you're not already getting a payment and need to claim one of the eligible payments and Services Australia approve your claim, you'll also get the supplement. You can claim online through myGov using a Centrelink online account, or Phone Services Australia.
MEASURE: Reducing minimum Super drawdowns / Reducing Social Security Deeming rates (resulting in increased age pensions).
AMOUNT
Age based minimum drawdowns for age-based pensions reduced by 50%. Social Security Upper Deeming rate changed to 2.25% and lower to 0.25%.
WHEN
Minimum Drawdown changes apply for the 2019-2020 and 2020-2021 income years.
Deeming rate changes apply from 1 May 2020.
RESTRICTIONS
Account -based and Age pensioners.
MEASURE: EARLY ACCESS TO SUPER
AMOUNT
Two separate withdrawals of $10,000 (tax-exempt)
WHEN
First Withdrawal up to 1 July 2020. Second Withdrawal between 1 July to 30 September (approximately).
RESTRICTIONS
Must apply first to the ATO through www.my.gov.au.
Separate arrangements will apply to SMSFs and further guidance will be released on the ATO website in due course.
Eligible recipients must be:
Unemployed; or
eligible for a job-seeker payment;
youth allowance for jobseekers;
parenting payment; special benefit or farm household allowance; or on or after 1 January 2020 you were made redundant, had working hours reduced by 20% or more; or were a sole trader and business was suspended or had turnover reduced by 20% or more.
MEASURE: Accelerated Depreciation
AMOUNT
A deduction of 50% of the cost of an eligible asset on installation will apply, with existing depreciation rules applying to the balance of the asset's cost.
WHEN
Immediately until 30 June 2021
RESTRICTIONS
Turnover must be less than $500million.
Only applies to new assets.
MEASURE: Relief for Financially Distressed Businesses
AMOUNT
Minimum debt for bankruptcy proceedings or Statutory Demand on Companies increased to $20,000
WHEN
Time allowed to respond to Bankruptcy Notices or Statutory Demands to a company, as well as preventing unsecured creditors taking action against voluntary bankruptcy proceedings extended to 6 months. Directors absolved of trading while insolvent for 6 months.
RESTRICTIONS
These measures are temporary and will apply for approximately 6 months only at this stage.
MEASURE: Supporting Apprentices
AMOUNT
Up to 50% of an apprentice or trainee's wages
WHEN
1 January 2020 to 30 September 2020
RESTRICTIONS
Business with up to 20 Full Time Employees. Maximum $21,000 per apprentice/trainee.
MEASURE: Cashflow Assistance For Businesses with Employees
AMOUNT
$20,000 minimum to $100,000 Maximum – divided into two tranches for the March and June Quarters.
WHEN
Employers will receive an automatic credit equal to 100% of their Salary and Wages withholding cost in two tranches spread across three quarters for quarterly lodgers, and across seven months for monthly lodgers (with a double credit for June). There is a minimum of $10,000 and maximum of $50,000 repeated with the same minimum and maximum in total. Any resulting refund will be paid by the ATO within 14 days.
RESTRICTIONS
Only for active businesses, not- for-profits or charities established before 12 March 2020, and with employees and turnover less than $50 million
MEASURE: Payment to Social Security, Veterans, income support recipients and eligible concession card holders
AMOUNT
One-off tax free payment of $750
WHEN
This information is not yet available.
RESTRICTIONS
May be loaded onto cashless welfare cards for some recipients, restricting the types of acquisitions made
MEASURE: Supporting regions and communities
AMOUNT
On a case by case basis the ATO will look to provide administrative relief. The ATO has announced a number of concessions that may be available including payment deferrals, opting to monthly GST reporting to obtain GST refunds more quickly, remission of GIC and penalties and low interest payment plans.
WHEN
This information is not available.
RESTRICTIONS
Industry must be disproportionately affected by economic impacts of the Coronavirus. This includes those heavily reliant on industries such as tourism, agriculture and education.
MEASURE: QLD Payroll Tax Deferral
AMOUNT
Deferral for lodgement and payment of QLD payroll tax returns for months of February 2020 to June 2020 inclusive.
WHEN
Deferred until August 3, 2020.
MEASURE: QLD Government Interest-free Loans
RESTRICTIONS
$500 million fund. The cap means that when it expires further funding may not be available to later applicants.
MEASURE: Increasing the instant asset write-off (immediate deduction for capital equipment)
AMOUNT
Increasing the purchase limit from $30,000 to $150,000 for new and second hand asset acquisitions.
WHEN
Immediately until 30 June 2020
RESTRICTIONS
Turnover must be less than $500million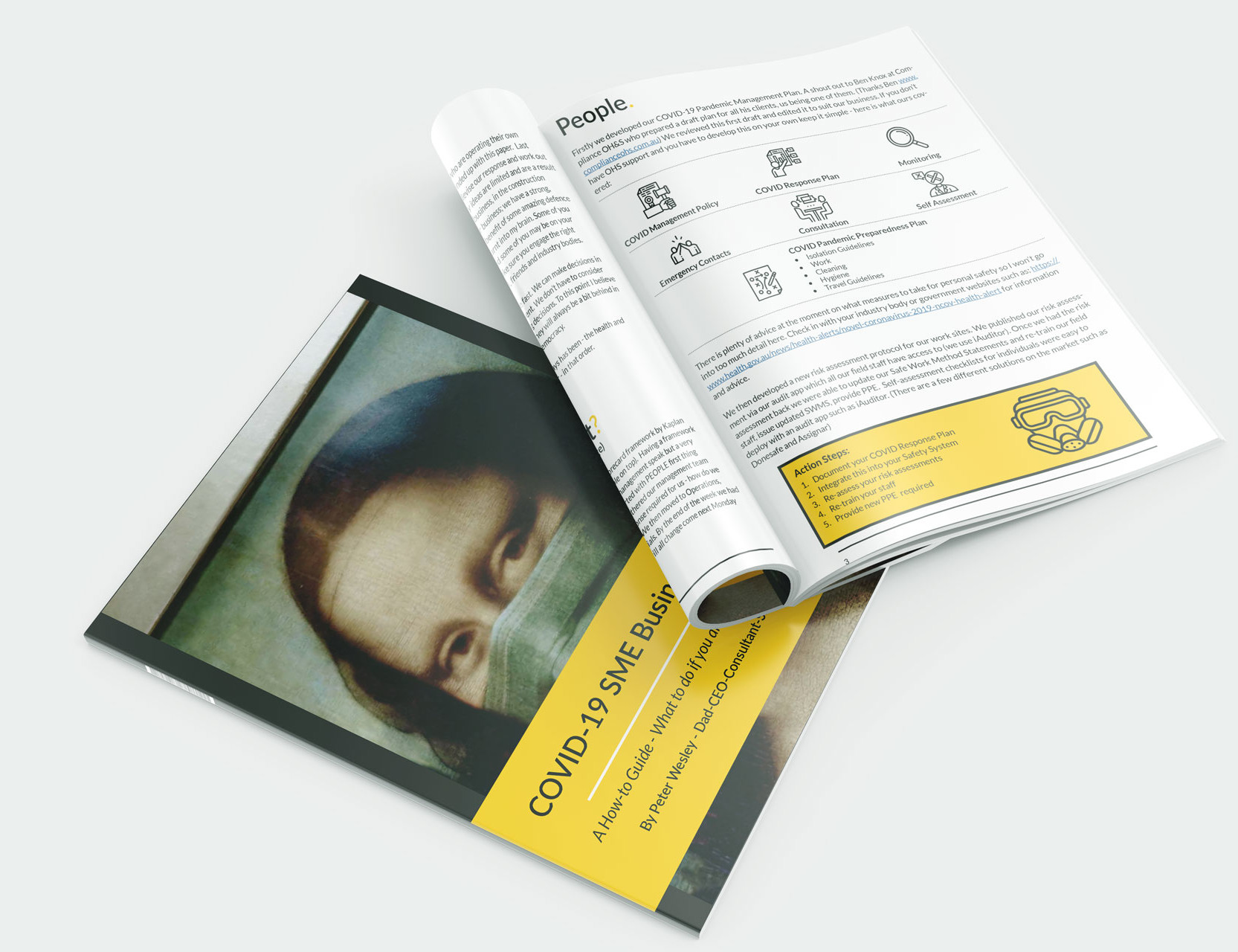 COVID-19 SME Business Response
– 11 Page How-To Step by Step Guide
"This is the information I wish I had when I started my COVID Planning. You can't buy this experience"
Included in this guide:
Where to start
How to plan
Links to valuable resources for more information
Operations
Customer
People
Finance
One Page Checklist
Real-life experience from someone working through these business issues today